Sights
Larsmo archipelago
Larsmo archipelago offers an unique experience all year around. Summertime you can enjoy the sun and the sea on a boat or why not visit a sandy beach in the outern archipelago. Wintertime you can walk or ski on the ice or maybe try pimp fishing. Read more about all the experiences that the archipelago offers you here.
Larsmo church and Kvarnbacken
The wooden church was completed in 1787 and designed by Jacob Rijf. The church surroundings are considered historically important. The beautiful wooden church and Marieholm vicarage and the old group of houses at Kvarnbacken constituates a unique cultural environment. A shed made of stone and Framstu byagård has been restored.
Bjärgas local museum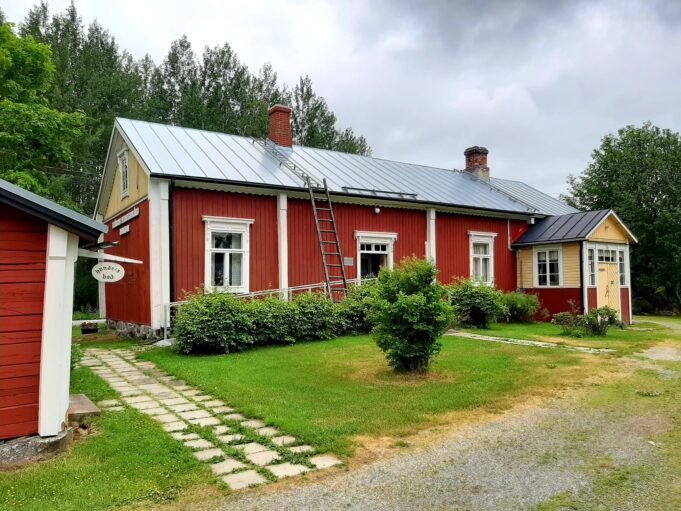 At Bjärgas museum visitors can experience a collection of miniature buildings from the 1930's, a village shop from the 1950's, old children'stoys and textiles and a herbal garden. Special exhibitions and a souvenir shop. Bjärgas website
Bosund Boat, Fishing and Hunting museum
Old boats, engines, hunting equipment and fishing tackle are on display at Bosund Boat, Fishing and Hunting museum. The museum is situated in an old boatbuilding area. To the area have been moved an insular forge built from three seine boats, an 18th century coast barn with it´s fish traps and game traps, a coast barn, a salt magazine and a windmill. Website of Bosund Boat, Fishing and Hunting museum
Inre Bergskär
The scenic recreational area by Inre Bergskär offers visitors magnificent seaviews. The area is equiped with an barbeque area and wind protection. Inre Bergskär is located nearby Larsmo fishingharbour.
Olofsborg
The old fisherman´s village at Olasören (Olavsön) is a popular destination for boatpeople and explorers. Olofsborg is owned and restored by Bosund Byalag (village community) since 1991. There´s an observation tower (16 meters above sea level) and smoke and barbeque owens for public use. It´s free to stay overnight at Olofsborg.
Öuran
The island of Öuran (Örarna) is the last outpost in the Larsmo archipelago. The old fisherman´s village offers visitors a genuine taste of history. Hiking trails and sandy beaches. Guided tours, transports and food can be arranged.
Köpmanholmen
Köpmanholmen is Larmo's recreational area, our lush green island is just a short row away from the mainland. On Köpmanholmen there is a café, a restaurant, conference room, sauna and of course, the calm that only nature can give.
Grafton monument on Orrskär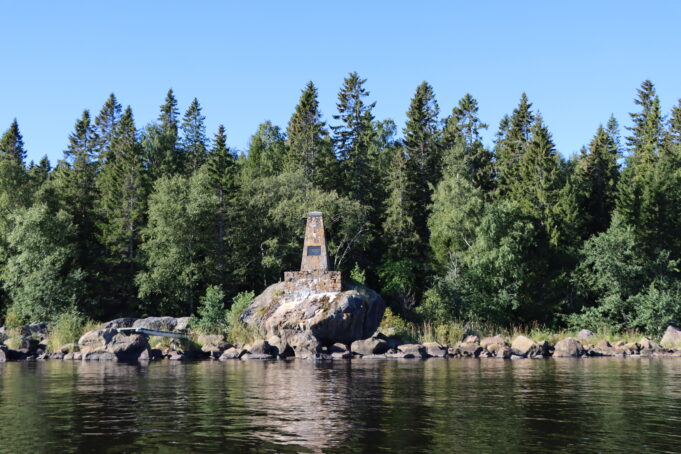 A monument in memory of the John Grafton incident of 1905 is erected on Orrskär. The S/S John Grafton was exploaded while carrying arms for the finnish resistance movement during the Russian-Japanese war.
Tyynelä Elf Village
Tyynelä Elf Village welcomes you to visit in july and december. Group bookings are possible outside of the season. Tyynelä is located in Västerbyvägen in Eugmo, Larsmo.
Website of Tyynelän Elf Village

Perca navicula sculpture on Larsmo square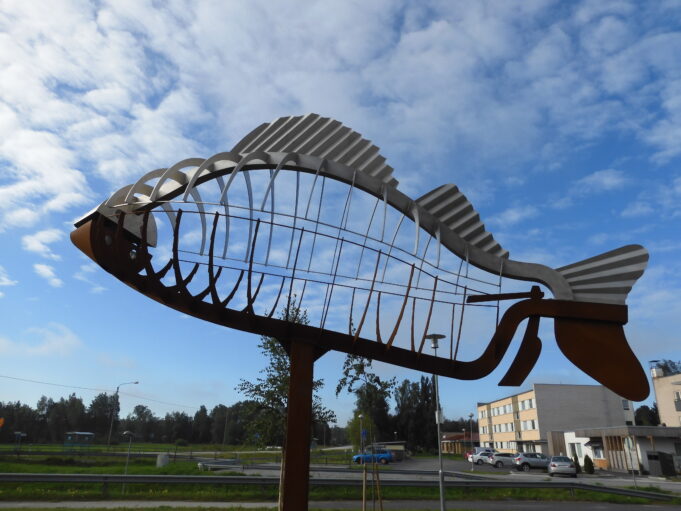 Perca navicula sculpture at Larsmo squere is made by the artist Simon Gripenberg. The sculpture was inaugurated in the summer of 2020. The artwork is a combination of a perch (nature) and a Larsmoboat (culture).